Chartwatch was founded by John Hancock & Neil Rawlings in 1981 to serve a small and eccentric community of people interested in analysing record charts. It also has printed booklets and a Chartwatch accont : chartwatchuk.
From 1983 to 1995, the annual chart booklets were compiled by David Longbottom from the charts published in
Record Mirror
and
Music Week
. Up until April 1991, a feature called "The Next 25" was in the singles and albums chart. When
Record Mirror
ended publication in 1991, The Next 25 was deceased and both charts were reduced to a Top 75, and there wasn't another Top 100 until September 1992 and it expanded to a Top 200 in November 1994, though the data for positions 76-200 is not published on a booklet yet. In 1996, Tobias Zywiestz took over compilation of the Annual Chart Booklets, using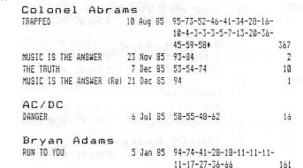 the charts published in
Hit Music
which extended the
Music Week
charts to a Top 200. In 2005, a 2nd edition, with positions 76-200, of the 1995 booklet was printed.
When Hit Music ended publication in May 2001, Herman Verkade established a newsletter called Charts+Plus, now known as UK Charts Plus.
David Longbottom also produced bookets for the 60's, covering the Top 50, only singles charts, from Record Retailer
All booklets feature chart runs, exculding 1983 and 1984 which only have summaries, of the charting singles and albums, plus a number of year end charts and statistics. The basic entries contain title, entry date, positions & point score.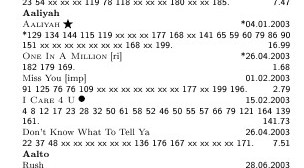 From 23/04/2005 to 11/03/2006, there a Top 250 for singles, then the singles chart was reduced to a Top 200 in 18/03/2006